With August slipping away and September looming I've realised just how quickly the one year countdown to our wedding is creeping up. UK and Cypriot ceremonies are booked, the band is on standby and my dress is bought and paid for. In the spirit of organisation I also put together a cute little gift box for my sister, a "Will you be my Bridesmaid" box full of essential bridesmaid goodies
I am lucky enough to have a very close group of female friends. Loyal, loving and always there when I need them, my girls are my angels. The only problem is... there are FOURTEEN of them. Amusing, as it would be to referee a series of fist fights between the ladies as they scuffled for a coveted bridesmaid title, I thought it best to opt for my darling younger sister and allow my chums to enjoy the wedding free of responsibility (AKA to get pissed)
So what does a Bridesmaid box consist of?
A dash of the essential, a sprinkling of kitsch, a nod to the theme and... alcohol. Of course alcohol
In my "Will you be my Bridesmaid" Box was the following:
Pink Fizz - To glug down before the intense dieting starts
A Notepad & Pen - To scribble down my crazed requests. 7 Doves? No problem.
Sea Shells - A nod to our Cypriot beach ceremony setting
A Colour-Scheme Chart - A reference point for planning and plotting
All secured conveniently with one of our cute Save the Date stickers - In case she forgets when the big day is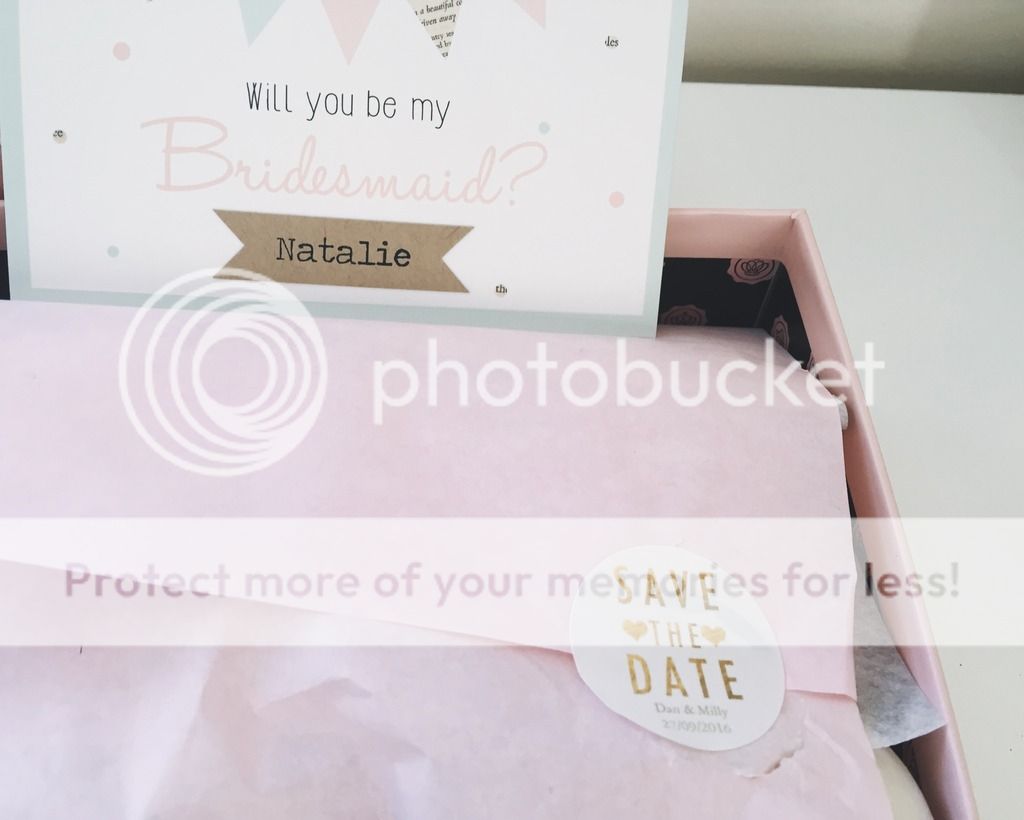 I think the most important thing to remember when wedding planning is: ITS NOT ALL ABOUT YOU - THE BRIDE. Making other people feel as special as you do about the event is key. Thoughtfulness regarding the impending stress and hard work your loved ones will be put under in the run up to your big day should always be remembered and where possible recognised. There aren't many occasions in life which will trigger the excitement and happiness that your wedding day will, so enjoy the process and celebrate every step towards your big day with as many people as you can
A big THANK YOU to NotontheHighStreet for all their help with my Bridesmaid Box